Biff Bar Lux 5500 Puffs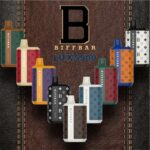 The 13-mL prefilled capacity and built-in rechargeable battery of the Biff Bar LUX 5500 Disposable provide up to 5500 puffs.
Biff Bar LUX 5500 Disposable Features:

Max Puffs: 5500
Synthetic Nicotine Strength: 50mg (5.0%)
Prefilled Capacity: 13mL
Battery Capacity: 650mAh
Charging Port: USB Type-C
Operation: Draw-Activation
Mesh Coil
variations:
Summer Peach Ice
Fuji Grape
Frozen Chocolate
Sparkling Orange Energy Drink
Dragon Paradise (Kiwi Passion Fruit Guava)
Space Cloud (Strawberry Mango)
Rainbow (Rainbow Cotton Candy)
Love Story (Blue Razz Lemon)
Sparkling Wild Berries
Straw-Colada Ice

Please login to add this product to your favourite list.
Success! Product have added to your wishlist.