Death Row QR5000 5pk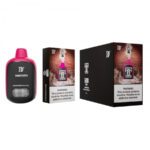 variations:
Strawberry Banana
Blue Razz
Lush Ice
Tobacco
Kiwi Strawberry
Blueberry Mint
Strawberry Peach
Mint
Strawberry Slushy
Black Ice
Mango Grape
Candy
Clear
Wild Berries
Mango Peach Watermelon
Wild Berrys
Apple Watermelon
Ice Cola
Peach Grape
Rainbow Pop
Strawberry Melon
Tangerine Bomb
Honeydew Pineapple

Please login to add this product to your favourite list.
Success! Product have added to your wishlist.