FLUM Pebble 6000 Puff 10pk
FLUM Pebble 6000 Puff 10pk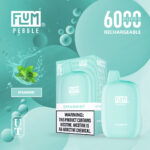 FLUM Pebble 6000 Puff 10pk
FLUM APPRECIATION GIFT BOX
FREE WITH PURCHASE OF 30 x 10pk FLUM PEBBLE
Gift Box Includes
FLUM FLOAT - 6 Disposable

FLUM GIO - 2 Disposable

FLUM PEBBLE - 4 Disposable

METAL COLLECTION CARD

BASEBALL CAP

BUCKET HAT

T-SHIRT

DOG LEASH

COFFEE CUP

BOTTLE OPENER
FLUM is the most popular disposable vape manufacturer offering the ultimate vapor delivery with a world-class mesh coil. A flavor-rich cloud with 5% nicotine, smooth and perfectly balanced, every puff is delectable. FLUM Pebble is a 6,000 Puffs rechargeable disposable vape device. Built-in 600mAh battery that can be recharged via USB-C cable.Puffs: 6,000Nicotine Strength: 5% (50Mg/ml)Liquid Capacity: 14MLBattery: 600mAh Rechargeable
variations:
Strawberry Banana
Aloe Grape
Spearmint
Tobacco
Cool Mint
Cranberry Grape
Blueberry Mint
Icy Mint
Menthol
StrawMelon Apple
Apple
White Gummy
Clear
Apple Grapefruit
Berrymelon Icy
Cherry Berry
Luscious Watermelon
Mango Icy
Matcha (Japanese Green Tea)
Passion Grape
Passion Kiwi
Peach Orange
Strawberry Coconut
Strawmelon
Vanilla Ice Cream
Melo Ice Cream
Blue Energy
Straw Mango
Arctic Icy
Peach Icy
Blanco Grapefruit
Blueberry Melo

Please login to add this product to your favourite list.
Success! Product have added to your wishlist.