Fume Extra 1500 Puffs 10pk
Fume Extra 1500 Puffs 10pk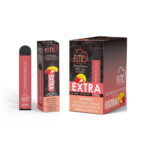 Fume Extra 1500 Puffs 10pk
SOLD AS 10 Pack
Original QRJOY FUME
variations:
Bubble Gum
Grape
Pink Lemonade
Strawberry Banana
Strawberry Watermelon
Blue Razz
Lush Ice
Pineapple Ice
Mango
Strawberry Mango
Banana Ice
Raspberry Watermelon
Peach Ice
Blueberry Mint
Tangerine Ice
Cotton Candy
Strawberry
Cuban Tobacco
Fresh Lychee
Fresh Vanilla
Melon Ice
Mint Ice
Purple Rain
Rainbow Candy
Strawberry Cheesecake
Double Apple
Gummy Bears
Pina Colada
Tropical Fruit
Coffee Tobacco
Black Ice
Yogurt Ice Cream
Blueberry CC
Dessert Breeze
Unicorn

Please login to add this product to your favourite list.
Success! Product have added to your wishlist.