Funky Republic Ti7000 5pk
Funky Republic Ti7000 5pk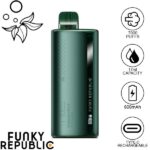 Funky Republic Ti7000 5pk
Introducing The All New Funky Republic Ti7000 Created by the innovative minds at Elf Bar, This one of a kind smart disposable vape is extremely compact with the new latest tech all while holding a whopping 7000 puffs of unbelievably smooth flavor, thanks to quaq tech technology you will feel the difference in flavor and vapor production, The Funky Republic Ti7000 has a built in screen so you can Directly see the exact juice and battery level through the innovative built-in display window, take the hassle out of guessing and determining how much juice is left, preventing those harsh burnt hits.
variations:
Strawberry Banana
Blue Razz Ice
Peach Mango Watermelon
Ice Mint
Watermelon Ice
Mixed Fruit
Rainbow Cloudz
Pineapple Coconut Ice
Tropical Rainbow Blast
California Cherry
Cantaloupe Apple
Passion Fruit Kiwi Lime
Peach Pie
Pink Bomb
Pomelo Pearl Grape
Super Berry
Tropical Island
Blue Red Mint
Mango Kiss
Blossom Mint
Osk Ice
Blueberry Duo Ice
Melon Berry Bomb Ice
Strawberry Duo Ice
Watermelon Nano Duo Ice

Please login to add this product to your favourite list.
Success! Product have added to your wishlist.