Geek Bar Meloso Max 9000 Puffs 5pk
Geek Bar Meloso Max 9000 Puffs 5pk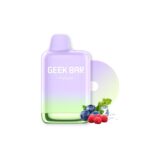 Geek Bar Meloso Max 9000 Puffs 5pk
variations:
Strawberry Watermelon
Strawberry Ice
Strawberry Mango
Cool Mint
Watermelon Ice
Sour Apple Ice
Peach Ice
Tropical Rainbow Blast
Berry Trio Ice
Fuji Melon Ice
Clear
Mexico Mango
Stone Freeze
Green Monster
Ginger Ale

Please login to add this product to your favourite list.
Success! Product have added to your wishlist.