Hyde N Bar Recharge 4500 Puffs 10pk
Hyde N Bar Recharge 4500 Puffs 10pk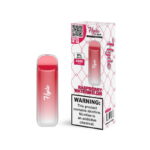 Hyde N Bar Recharge 4500 Puffs 10pk
variations:
Strawberry Banana
Aloe Grape
Blue Razz Ice
Peach Mango Watermelon
Strawberry Kiwi
Banana Ice
Peach
Raspberry Watermelon
Sour Apple Ice
Strawberry Ice Cream
Rainbow
Cherry Peach Lemonade
Energize
Mango Peaches & Cream
Minty O's
OJ
Summer LUV
Watermelon Ice Cream
Tropical
Bananas & Cream
Blue Razz Lemonade
Brazmallows
Caribbean Colada
Dewberry
Strawberry Guava Ice
Dragon Fruit Lemonade
Red Apple Lemon

Please login to add this product to your favourite list.
Success! Product have added to your wishlist.