Hyde Rebel Pro Recharge 5000 Puffs 10pk
Hyde Rebel Pro Recharge 5000 Puffs 10pk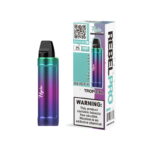 Hyde Rebel Pro Recharge 5000 Puffs 10pk
Hyde brings you the new and improved Rebel Pro Recharge, the upgraded version of the original Rebel Recharge. While it maintains its original textured pattern design for a solid grip, the puff count has been raised so you can enjoy your favorite smooth flavors for longer.
Product Specifications:
Battery Capacity: 600mAh (rechargeable)
Pre-Filled E-Liquid Capacity: 11mL
Puff Count: Approximately 5000 Puffs
Charging: Micro USB Charger (not included)
variations:
Blue Razz
Blue Razz Ice
Red Apple
Strawberry Ice
Peach
Raspberry Watermelon
Sour Apple Ice
Strawberry Ice Cream
Fresh Vanilla
Rainbow
Mango Peaches & Cream
Watermelon Ice Cream
Tropical
Philippine Mango
Blue Razz Cloud
Lemon Ice Cream
Peach Lemon
Strawberry B-Day
Strawberry Lemon Lime
Strawberry Kiwi Guava
Apricot Pear

Please login to add this product to your favourite list.
Success! Product have added to your wishlist.