HYPPE Max-Air 5000 Puffs 5pk
HYPPE Max-Air 5000 Puffs 5pk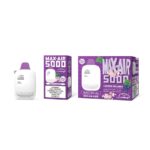 HYPPE Max-Air 5000 Puffs 5pk
Buy 5 Get 1 FREE - MIX & MATCH
Mix & match colors of the same product only,
must add multiple of 6 quantities, 1 will be discounted in the cart.
Every vaper's desire is satisfied by the Hyppe Max Air puff vape, which produces thick clouds, intensified kicks with each draw, and continuous enjoyment of vaping. Once more, a lanyard is included with the Hyppe Max Air. The vaping industry's first of its kind.

Puffs: 5000
Juice Capacity: 13ml
Battery: 650mAh
Nicotine Concentration: 5%
Nicotine Type: Salt Nicotine
Coil Mesh Coil
Firing Mechanism: Draw Activated
Rechargeable: Type C charger
variations:
Lush Ice
Mango Ice
Strawberry Ice
Mighty Mint
Cola Freeze
Peach Freeze
Strawberry Sky
Sour Peach
Summer Fruit
Black Sakura
Caramel Ice Cream
Mixed Flavor
Naked - Unflavored 3%
Naked - Unflavored 5%

Please login to add this product to your favourite list.
Success! Product have added to your wishlist.