Lost Mary MO5000 5pk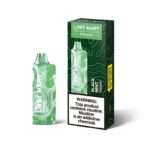 Lost Mary MO5000 5pk
Made By ELF BAR

SOLD AS 5pk
variations:
Blue Razz Ice
Strawberry Ice
Watermelon Ice
Cherry Lemon
Blueberry Raspberry Lemon
Tropical Fruit
Energize
Guava Ice
Watermelon Cherry
Miami Mint
Mango Peach
Triple Berry Ice
Strawberry Watermelon Ice
Kiwi Passion Fruit Guava
Black Mint
Blue Trio
Grape Jelly
Lemon Sparkling Wine
Pineapple Apple Pear
Citrus Sunrise
Yummy
Mango Peach Watermelon
Ginger Beer
Blueberry Raspberry Pomegranate
Kiwi Fuse
Plum Rose Mint
Berry Rose Duo Ice
Black Duo Ice
Blackcurrant Mint
Fuji Duo Ice
Kiwi Dragon Duo Ice

Please login to add this product to your favourite list.
Success! Product have added to your wishlist.