Lost Mary OS5000 10pk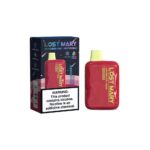 Lost Mary OS5000 10pk
Made By ELF BAR

SOLD AS 10pk
Features:
13mL Prefilled E-Liquid Capacity
Integrated 650mAh Battery
5% Nicotine Salt Formulation
Approximately 5000 Puffs
Draw-Activated Firing Mechanism
Type-C USB Port
variations:
Grape
Strawberry Watermelon
Blue Razz Ice
Peach Mango Watermelon
Spearmint
Watermelon
Cherry Cola
Strawberry Ice
Strawberry Mango
Blueberry Ice
Lemon Mint
Cherry Peach Lemonade
Pineapple Mango
Strawberry Pina Colada
Blue Cotton Candy
Raspberry Lemonade
Kiwi Passion Fruit Guava
Cranberry Soda
Juicy Peach
Strawberry Sundae
Black Mint
Mary Dream
Mad Blue
Watermelon Lemon
Blueberry P&B Cloud (Blue Cotton Candy)
Peach Ice (Juicy Peach)
Banana Duo Ice
Cherry Banana Duo Ice
Pineapple Duo Ice
Triple Berry Duo Ice
Acai Berry Storm Ice
Berry Crush Ice
Lemon Lime Sparkling
Black Lemonade
Blueberry Raspberry Peach
Forest Mint
Light Snow Peppermint
Black Strawnana

Please login to add this product to your favourite list.
Success! Product have added to your wishlist.