Novo Bar AL6000 10pk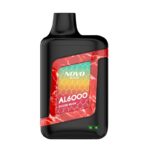 variations:
Blue Razz Ice
Watermelon Candy
Cherry Cola
Mixed Berries
Peach Ice
Fresh Mint
Berry Watermelon
White Gummy
Clear
Root Beer
Lemonade Chill
Raspberry Ice Tea
Strawnana - Strawberry Banana
Strazz - Strawberry Raspberry
Sundown - Lemon Lime
Fantasy Island - Strawberry Coconut
Sugar Rush - Candy Mix
Bapaya - Banana Papaya
Blue Haze - Blue Razz Lemonade
Mr. Pepper
Raspberry Pom

Please login to add this product to your favourite list.
Success! Product have added to your wishlist.