Orion Bar 7500 10pk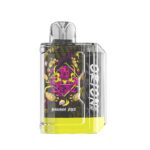 variations:
Pink Lemonade
Strawberry Watermelon
Aloe Grape
Lush Ice
Mango Ice
Peach Mango Watermelon
Pineapple Ice
Blueberry Raspberry
Strawberry Kiwi
Cool Mint
Sour Apple Ice
Orange Ice
Pineapple Lemonade
Rainbow Drop
Grape Energy
Summer Peach Ice
Triple Berries
Blueberry Pie
Dragon Fruit Berry
Banana Cake

Please login to add this product to your favourite list.
Success! Product have added to your wishlist.