Pod Mesh 5500 Puffs 10pk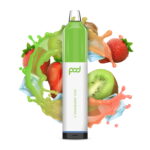 Pod Mesh 5500 Puffs 10pk
SOLD AS 10 Pack

5.50% Nicotine

Adjustable Air Flow

5500 Puffs
variations:
Aloe Grape
Strawberry Kiwi
Loops
Blue Razz Lemonade
Arctic Lush
Banana Frost
Blue Razz Chew
Blueberry Muffin
Chilled Blue Razz
Cookies & Cream
Frozen Strawberry Guava
Glacier Fuji Apple
Glazed Donut
Krunch
Marshmallow
Mighty Mint Sapphire
Peblz
Pod Energy
Polar Peach
Arctic Blue Razz Watermelon
Berry Lush Apple
Cotton Carnival
Frozen Sour Apple
Glacier Grape Chew
Hawaiian
Jewel Tobacco
Plum Berry Freeze
Red Gummy
Sour Strawberry Gummy
Strawberry Snow Cone
Watermelon Soft Chew

Please login to add this product to your favourite list.
Success! Product have added to your wishlist.