Puffmi Dura 9000 Puffs 5pk
Puffmi Dura 9000 Puffs 5pk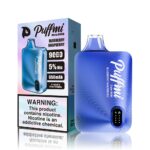 Puffmi Dura 9000 Puffs 5pk
variations:
Strawberry Watermelon
Tobacco
Blueberry Raspberry
Banana Ice
Blueberry Ice
Cool Mint
Watermelon Ice
Peach Ice
Double Apple
Pina Colada
Tropical Mango
Rainbow Drop
Strawberry Mango Ice
Watermelon Bubblegum
Grape Icy
Pineapple Breeze
Cool Mocha
Quad Berry Ice

Please login to add this product to your favourite list.
Success! Product have added to your wishlist.