RabBeats RC10000 5pk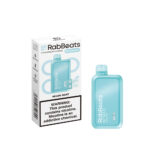 variations:
Peach Mango
Blue Razz Ice
Grape Ice
Strawberry Ice
Watermelon Ice
Blueberry Mint
Lemon Lime
Miami Mint
Fuji Ice
Strawberry Kiwi Ice
Dragon Fruit Berries
Sex On The Beach
Grape Cherry
Blueberry Cloudz
Blackberry Cranberry
Cherry Watermelon
Crazy Berry Cherry

Please login to add this product to your favourite list.
Success! Product have added to your wishlist.