Sili Box Turbo Hit 5pk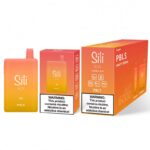 variations:
Mighty Mint
Caribbean Punch
Iced Apple Bomb
Blue Banger
Blue Slush
Bubble Berry
Candy Pop
Fuzzy Grape
Gooey Gummy
Grape Daddy
Green Ghost
Jolly Lush
Juicy Gusher
Mango Mistress
Oceanside Strawberry
PBLS
Purple Dragon Berry
Tropical Breeze
Wigglyville
Baby Clouds

Please login to add this product to your favourite list.
Success! Product have added to your wishlist.