Spaceman 10K Pro 5pk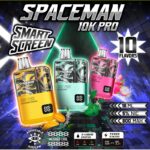 variations:
Watermelon Ice
Mixed Berries
Black Mint
Root Beer
Banana Cake
Fruit Cereal
Lush Candy
Dragon Mango Lemonade
Juicy Rainbow Ice
Blue Haze
White Grape Ice
Frozen Snow Cone

Please login to add this product to your favourite list.
Success! Product have added to your wishlist.