YOVO JB8000 5pk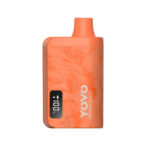 variations:
Blue Razz Ice
Watermelon Ice
Cranberry Grape
Miami Mint
Crazi Berry
Clear
Cherry Lime
Root Beer
Strazz
Peach Rings
Yummy Bear
Fuji Peach
Dragon Citrus
Blue Carnival
Cali Mint
Cherry Strawberry
Hawaiian Paradise
Minty Smooth
Citrus Cake
P.M.W (Peach Mango Watermelon)

Please login to add this product to your favourite list.
Success! Product have added to your wishlist.